http://www.facebook.com/events/384720728237024/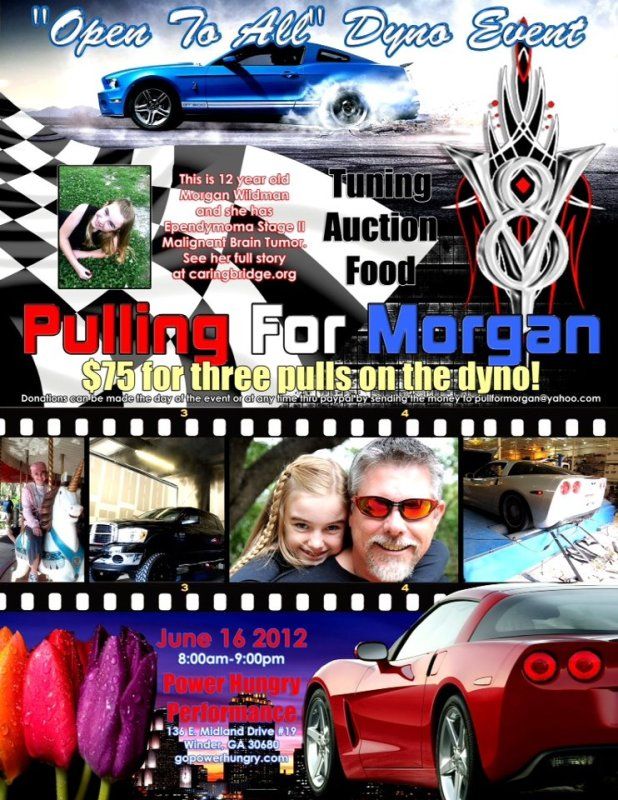 This is a dyno event, auction and tuning event that benefits 12 year old Morgan Wildman, daughter of Tony Wildman. Tony Wildman is a very prominent tuner of Diesel trucks. Morgan is suffering her third bout with Ependymoma Stage III malignant brain tumor. Here is Morgan's story(she was just upgraded to stage III 2 weeks ago):
http://www.caringbridge.org/visit/morganwildman
This event is to help Morgan and the Wildmans in their time of need. Come out and get your car or truck dyno'd ($75.00 for 3 runs), get your truck tuned, get your FICM tuned, partake in our live auction of great products, hang out with fellow enthusiasts, and most importantly benefit Morgan. If you cannot make it, we are also taking paypal payments (info at the bottom of this post). All vehicles welcome. (can't dyno awd cars or motorcycles) The father, Tony, will be in attendance!
What:
Dyno Day to benefit Morgan Wildman, daughter of Tony Wildman (Prominent, well known Diesel Tuner).
Location:
Power Hungry Performance
136 E. Midland Drive #19
Winder, Georgia 30680
Date/ Time:
June 16th 2012, starting at approximately 8am.
ok check it out, we are diligently working out the details with Bill at PHP to help the Wildman family. We are getting the ball rolling and have vendors coming to the aid to donate. Which is FANTASTIC!
We are planning a dyno day, with a Auction incorporated into the event where the people that come out can bid on what they want to have, and 100% of what we make from the auction will go to the Wildmans! We are planning on having some media sources on site to take pictures and possibly film the vehicles up on the rollers.
PAYPAL HAS BEEN SET UP FOR THE EVENT! If you cannot make the event feel free, if you wish, to donate money using this account!
the paypal address is as follows:
[email protected]
any payments should be sent as a GIFT, as to not get charged ridiculously!
Pre-registration form can be found on the following link. A paypal request will come shortly afterwards! Pre-registration guaruntees a spot on the dyno.. so it is highly recommended!
https://fs21.formsite.com/Power_Hung...ure_index.html